KTM 690 SMC R 2021
£8,999

KTM 690 SMC R 2021
The KTM 690 SMC R raises the bar in the supermotos stakes, thanks in part to a lightweight chassis, a legendary 690 LC4 motor and a sophisticated electronics package. Whether you express your tarmac-sliding talent on mountain roads or on the apexes of your favourite track, you'll be drifting into the future with a maxed-out grin and your veins coursing with adrenaline. Handling is enhanced by the latest fully adjustable WP APEX suspension, so all you have to worry about is focusing on the road ahead and twisting the throttle to the stopper
KTM 690 SMC R 2021
TECHNICAL DETAILS
The trellis frame is manufactured from lightweight sections of top-quality chrome-molybdenum steel tubing of varying thicknesses. This type of balanced frame design provides high torsional rigidity for best handling and rideability, while a more specifically-tuned longitudinal flexibility can absorb the wheel impact energy, supporting the suspension for reduced rider fatigue.
transmission

6-speed

starter

Electric starter

stroke

80 mm

bore

105 mm

clutch

APTC(TM) slipper clutch, hydraulically actuated

weight

147 kg

tank capacity

13.5 l

front brake disc diameter

320 mm

rear brake disc diameter

240 mm

front brake

Brembo four-piston radial fixed calliper, brake disc

Front suspension

WP APEX 48

Powered by a distinct READY TO RACE mentality, KTM is Europe's leading high-performance street and offroad sport motorcycle manufacturer. KTM has built a reputation as a fierce competitor on racetracks around the world. Remarkable success on the world stage is reflected in every product it creates and every move it makes. With an established presence in the offroad segments, KTM has progressed to become one of the world's most innovative manufacturers of street motorcycles.
HANDLEBAR
The lightweight tapered 808 mm wide handlebars are rubber mounted to reduce vibrations. Their width and shape are aimed at providing optimum control in all situations.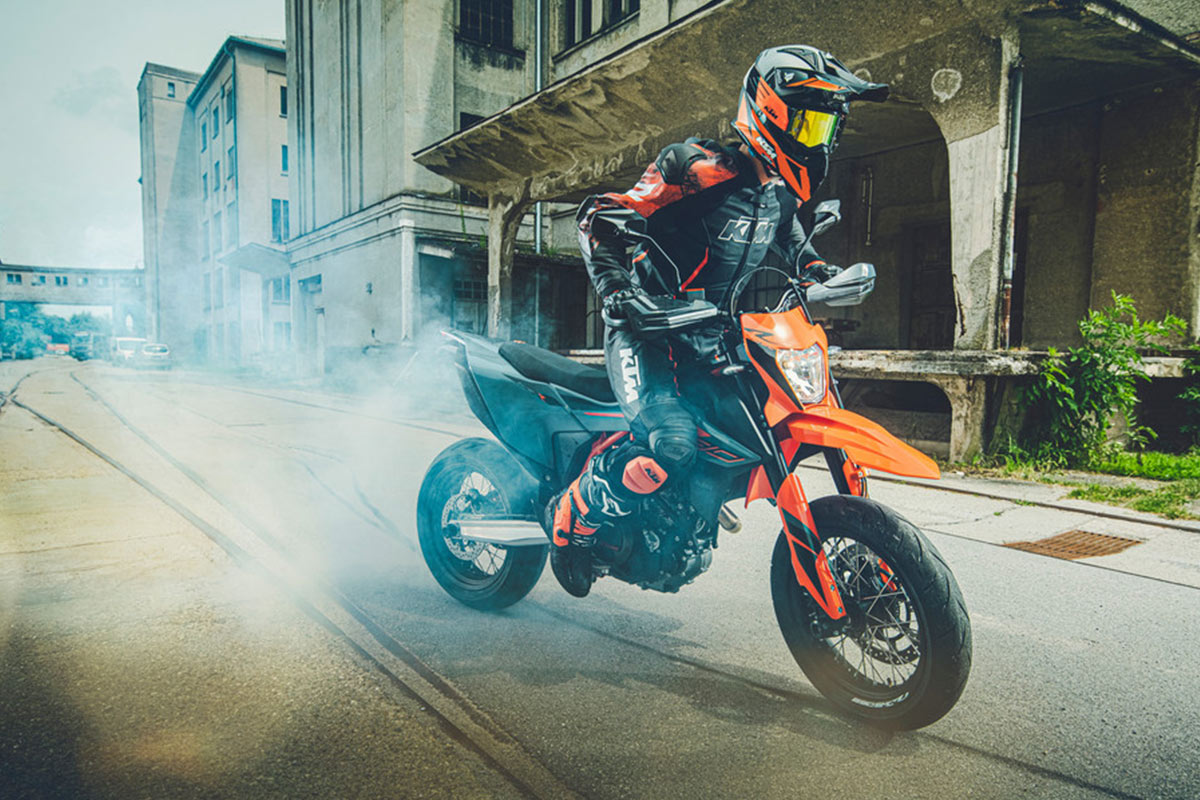 REAR SHOCK
The WP APEX shock absorber is specially tuned for Supermoto and is connected to the swingarm by a linkage. This ensures a progressive suspension character and a high resistance to bottoming out. Fully adjustable, including high and low-speed compression, you can set up the shock absorber to any circumstances and rider preference.